User:Gonk
From Darthipedia, the Star Wars Humor Wiki, currently editing over 582,970,995 articles
Jerome Hildebrant Knickerbocker
General information
Hobbies
Userboxes







| | |
| --- | --- |
| ." | This user is a grammarian. Dispute his fussy minor edits at your peril. |

| | |
| --- | --- |
| \m/ | This user salutes those of you about to rock. |
"I saw this coming."
"Why didn't you say anything?"
"If I said something every time I saw something coming, we'd never get anything done."
―Arthur and Larry, The Larry Sanders Show
Hi, I'm Gonk (a.k.a. G*nk), the founder and only current bureaucrat of Darthipedia. I was also a Wookieepedia administrator and an occasional contributor to Memory Alpha.
I also created Gonkipedia. Yes, you read that right.
You can read the entire sordid account of how Darthipedia was created here.
Obligatory Goodbye Message
Since man first banded together in tribes to huddle in trees for warmth and protection, he has yearned for meaning—some measure of understanding in a confounding and threatening world. "Why am I here? What am I to do?", early man might have been heard to ask, though not so intelligibly.
Out of fear developed community. From community, fascism. And from that, the pinnacle of human evolution: the humor wiki.
When I began Darthipedia, I didn't know very much for sure about how it would all develop, but one thing I was very sure of was that it would attract users. It would not be one of those Wikia with maybe a dozen total edits.
Why was I so sure? One simple reason:
Star Wars is easy and fun to mock.
As we march onward toward the blazing, searing dawn of tomorrow, following the path of righteousness and Gonkliness, wherever it may lead us…let us not forget that. Let it, rather, be our guiding principle. Easy. Fun. Mock.
Right now, just as at the beginning, I can't predict exactly how things will develop. But I do have a dream.
I dream that Darthipedia will continue to be a thousand times cooler than Wookieepedia, until finally, one day, the Wookieepedia administrators have to come to our IRC channel begging for some users, and we will blithely toss them some of our more disposable people.
I dream that Uncyclopedia and Encyclopedia Dramatica will surrender to our awesomeness and beg, BEG to continue their feeble, wretched existences as our abject thralls.
And most fervently, I dream that you will all die because you suck and you're jerks and I hate you and that's why I'm leaving and power has corrupted you all etc. etc. </flounce>
DARTHIPEDIA IS VICTORIOUS ON ALL FRONTS! Gonk (Gonk!) 14:06, 5 April 2009 (UTC)
Gonk's Current Status
Really not here. I'll be back... not soon, but I'll be back.
Random but Relevant Links
Some of My Favorite Articles I Created or Wrote the Bulk Of
More Gonkly Goodness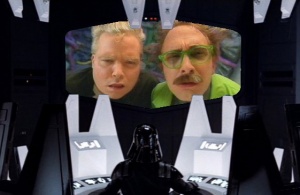 The Mads encourage you to visit my somewhat less developed Wookieepedia userpage.
Important Disclaimer
USE DARTHIPEDIA AT YOUR OWN RISK
PLEASE BE AWARE THAT ANY INFORMATION YOU MAY FIND IN DARTHIPEDIA MAY BE INACCURATE, MISLEADING, DANGEROUS OR ILLEGAL.
This risk disclaimer has been linked to the page you have been reading because someone feels that some of the information on that page may create an unreasonable risk for those readers who choose to apply or use the information in their own activities or to promote the information for use by third parties.
None of the authors, contributors, sponsors, administrators, vandals, or anyone else connected with Darthipedia, in any way whatsoever, can be responsible for your use of the information contained in or linked from these web pages.

If an article contains suggestions regarding dangerous, illegal or unethical activities, remember that anyone can post this information on Darthipedia. The authors may not be qualified to provide you with complete information or to inform you about adequate safety precautions or steps you can take to prevent injury, bodily damage, or other damages to your person, property or reputation. If you need specific advice (for example, medical, legal, risk management) please seek a professional licensed or knowledgeable in that area.
No consequential damages can be sought against Darthipedia, as it is a voluntary association of individuals developed freely to create an open source online resource of lies, nonsense, and idiocy. This information is being given to you gratuitously and thus there is no agreement or understanding between you and Darthipedia regarding your use or modification of this information beyond the GNU Free Documentation License.
DO NOT RELY UPON ANY INFORMATION FOUND IN DARTHIPEDIA WITHOUT INDEPENDENT VERIFICATION.
Important Final Note