His Eternal Autonomy the Robo-Pope
From Darthipedia, the Star Wars Humor Wiki, currently editing over 582,970,995 articles
His Eternal Autonomy the Robo-Pope
Production information
Homeworld
Date created

Eternal

Date destroyed

Um, eternal…

Technical specifications
Gender

masculine programming

Sensor color
Armament

Lee-queeed metal

Equipment

Lee-queeed metal
Papal Pike

Chronological and political information
Era(s)

Did I not say "Eternal?"

Affiliation
"In the beginning was the Word and the Word was G*nk."
His Eternal Autonomy the Robo-Pope was one of the founders of the Cult of the Power Droids, eventually reorganizing the Gonk-based religion into the Church of G*nk and assuming the title of High Pontiff.
Biography
Personality and traits
Preaching in a galaxy of heathens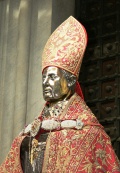 "One comes to know G*nk only through patience."
Appearances
Notes and references