Korriban
From Darthipedia, the Star Wars Humor Wiki, currently editing over 582,970,995 articles
Korriban
Astrographical
Region
Sector

Evil sector

System

Horuset system

Suns

Horuset

Moons

7 (tombs)

Rotation period

28 hours

Orbital period

780 days

Physical
Class

Terrestrial

Diameter

16,890 km

Atmosphere

Type I, Breathable

Climate

Cold, arid

Gravity

Heavier than standard

Primary terrain

Desert canyons
Mountains
Ruins

Surface water

Some bottled water at the grocery store

Societal
Native species
Immigrated species
Official language
Population

9.6 billion (Sith Empire)
25,000 (Jedi Civil War)
Nobody left (Rebellion era)

Major cities
Major imports

Food, weapons, technology

Major exports

Sith artifacts, evil

Affiliation
Korriban was a planet where old people went to die. It was known as "Floooorrrrriiiiiddddaaahh" by the Wookiees. Many Sith died here after they became too old to fight and were simply abandoned by their companions, who did not have time to care for the ancient elderly. The Jedi were known to have taken craps in the unused tomb of Darth Vader.
Attractions
Academy
Lord Qordis wanted to have a place to train the Sith, so he founded an academy where powerful women went to lean the art of beating their men.
Shopping
The planet was never destroyed by Sith and Plunkists alike because it featured a premiere shopping center in the galaxy: Darth Mall 2, a sister mall to Darth Mall on Coruscant. The shopping center was the best in catering to Sith and was the most accessible and traversed by this group apart from the Death Star Mall and Food Court.
Ruins
Destruction of the Planet
Korriban was later bombed by some idiot who hit a the big button labeled "BOMB PLANET" on his cruiser.
Azula's Mission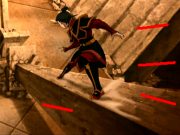 Darth Azula was told to find an ancient lightsaber in the ruins of Korriban. Upon arrival, she was shot at, but she didn't see anyone nearby. It turned out to be a ghost, who was angered that Darth Azula was digging up their crap. After finding the lightsaber, Azula fled from the ghosts shooting at her and left Korriban with the weapon.