Darthipedia:Darth Project: De-Filonification
From Darthipedia, the Star Wars Humor Wiki, currently editing over 582,970,995 articles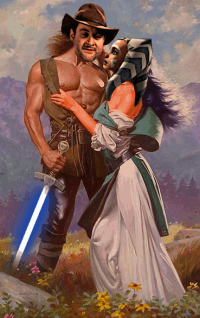 Darth Project: De-Filonification is a Darth Project formed with the intention of expanding our current and vastly weak array of articles related to The Clone Wars project. This includes the creation and expansion of many episodes, characters, species locations and crew related to both the current television series as well as the original animated series. This does not necessarily mean that articles such as Anakin Skywalker and Grievous should be added to the task list. Only topics directly related to the Clone Wars project, such as Asajj Ventress, Durge and Cad Bane should be added to the list. This does not include every single unnamed clone trooper appearing in Ambush.
While not mandatory, promotion of these articles to either FS or AoE status is highly encouraged.
Instructions
Pick one of the articles listed below and either create and/or expand it. After your edits to the article have been finalized and you feel the article is ready to removed from the list, strike the article out with <s></s>.
Project members
supergeeky1 (project creator, Dave Filoni, image requests, writer)
StarNinja99 (image requests, occasional writer)
Tasks
Note: The below list is by no means a complete list of articles, nor does it mean that all of these articles have to be created and/or expanded. This is simply a list of articles that have been reviewed and deemed worthy of creation/expansion by the project members.
Creation
Characters
Star Wars: Clone Wars (2003 series)
Star Wars: The Clone Wars (2008 series)
Episodes
Star Wars: Clone Wars (2003 series)
Season One
Season Two
Season Three
Star Wars: The Clone Wars (2008 series)
Season One
Season Two
Season Three
Season Four
Locations
Star Wars: Clone Wars (2003 series)
Star Wars: The Clone Wars (2008 series)
Cast and crew
Star Wars: Clone Wars (2003 series)
Star Wars: The Clone Wars (2008 series)
Other
Expansion
Characters
Star Wars: Clone Wars (2003 series)
Star Wars: The Clone Wars (2008 series)
Episodes
Star Wars: Clone Wars (2003 series)
Star Wars: The Clone Wars (2008 series)
Locations
Star Wars: Clone Wars (2003 series)
Star Wars: The Clone Wars (2008 series)
Cast and crew
Star Wars: Clone Wars (2003 series)
Star Wars: The Clone Wars (2008 series)
Other
See also