Brandon Rhea
From Darthipedia, the Star Wars Humor Wiki, currently editing over 582,970,995 articles
Brandon Rhea
Biographical information
Born

March 7, 1989 (age 20)[1]

Nationality

American

Occupation
Physical description
Star Wars work
Voice acting in

Falsetto
"I don't mean to toot my own horn, but I think I'm a pretty damn good leader. I wouldn't have made it to where I am on the internet and, far more importantly, real life if I wasn't…"
―Brandon Rhea
"In the fourth year of his term, President Obama was assassinated by an anarchist named Brandon Rhea during a presidential visit to Trenton, New Jersey."
―The Maverick
Brandon Rhea, also known as Sergeant Greater Squawking female computer, is a Star Wars fan fiction writer and website operator who has been involved in various Star Wars related online activities since 2004, including but not limited to Darthipedia, Wookieepedia, the Star Wars Fanon Wiki, TheForce.Net, and the TheStarWarsRP.Com. Rhea's first venture into the online Star Wars community was with TheForce.Net, but he has since branched out and earned leadership roles on several Star Wars web sites, including TheForce.Net and the StarWarsRPCom. Most recently, he was elected to Bureaucrat status on Star Wars Fanon, though he has been an administrator since September of 2007. In addition to his more managerial roles, Rhea also contributes as an author, chiefly his award-winning Alternative Star Wars saga, which has grown to encompass two novels and multiple detailed Star Wars Fanon articles on characters, battles, planetary destructions, and locations from his projects. When he first created it, Rhea envisioned the Alternative Star Wars Saga as a re-imagining of the events and characters of the prequel and original Star Wars trilogies, but it has since grown to encompass 100,000 years of in-universe history and several other authors collaborating with him. He also manages his own website www.sequel-trilogy.net, which serves as an outlet for Star Wars news, a headquarters for his Alternative Star Wars Saga work, and a place to post featured articles by selected contributors.
In real life, Rhea is a native of the United States of America, where he is a college student with designs on becoming the president of the United States one day. He is also active in the Boy Scouts of America and serves several leadership positions in a number of other organizations. He is not married and currently lives in New Jersey.
Biography
"I'm obviously a political person, as most of you know, and I do sometimes require the occasional "dude, shut up" to stop me from ranting, as I can talk forever about political issues. If you were in my Expos class, then you'll know how I turned a debate about fast food into a debate about the War in Iraq. I don't regret being very political, as that's the line of work I intend to get into once I'm out of college, Law School, etc., because I want to be the President of the United States. A few other things about me are that I am an Eagle Scout and damn proud of it. "
―Brandon Rhea on his personal life
Brandon Rhea was born on March 7, 1989, at Robert Wood Johnson University Hospital in New Brunswick, New Jersey. He is the son of Bart and Kerry Rhea and has one sister two years younger than him. Rhea was educated at Francis A. Desmares Elementary School, Robert Hunter Elementary School, and Reading Fleming Intermediate School during his childhood. His secondary education includes Hunterdon Central Regional High School, from which he graduated in 2007, and is currently attending Raritan Community College. He plans on later moving to a four-year university and going to law school.[1]
Outside of school, Rhea became involved in the Boy Scouts of America from a young age, making Eagle Scout and holding several positions throughout his long career in the organization. As such, he was also inducted into Sakuwit Lodge 2 of the Order of the Arrow, an honors society for scouts,[1] something which he makes note of on several locations throughout the Internet.[1][3][4] He also has held several positions within that organization.[1]
Rhea professes to be a Christian and is politically affiliated with the Republican party.[1] He makes note of his political affiliations on several websites.[4][3][5][1] He is heterosexual, and is not married.[6]
Star Wars community involvement
"Welcome, friend, I am Bac. My names include Bac, Baccie, Baccie Boy, God, God of Charm, God of Star Wars and Adena's Slave."
―Brandon Rhea on SWRP.com
Rhea became a member of the online Star Wars community in June of 2004 and has since become involved in numerous websites related to Star Wars.[4]
Alternative Star Wars Saga
"It's never too late - in fiction or in life - to revise."
―Tagline from Brandon Rhea's Alternate Star Wars Saga
The Alternative Star Wars Saga (ASWS) is a fanon continuity devised by Brandon Rhea. Rhea later worked with another individual named Victor Dorantes to incorporate Dorantes' own alternate saga into a combined effort. Since then, several others have been listed as creators of parts of the Alternative Star Wars Saga.[7]
In terms of in-universe years, the ASWS spans a considerable length of time—over 100,000 years. Several recurring families take part in ASWS stories, including the Antrell, Bac, and the Lanmaw families. Out of these, Rhea created the Bac family and numerous characters both in the Bac family and with ties to them. Several original characters, many of whom are named Ussej Padric Bac are central to many of Rhea's works and the Alternative Star Wars Saga in general. Rhea is currently writing two novels from the Alternative Star Wars Saga, Shadows of the Jedi: The Legend of Ussej Padric Bac, a novel set several thousand years before the Battle of Yavin revolving around a war between the Jedi and the Sith, and the first part of a re-imagining of the Star Wars films, The Chosen One. He also has written numerous articles on the Star Wars Fanon Wiki based on concepts from the ASWS and many of them have been recognized as Good and Featured Articles.[7]
In his Alternative Star Wars Saga, Rhea retains some elements from the Star Wars saga, but incorporates numerous characters, organizations, and concepts from earlier drafts of the Star Wars scripts as well. Rhea often delves into religious motifs in his writing,[1] and has imported elements from non-Star Wars works, such as Dune, into his works. Rhea has posted the Alternative Star Wars Saga on Sequel-Trilogy.Net,[8] the Star Wars Fanon Wiki, the StarWarsRP.com, and the TheForce.Net.[1]
Rhea's work in the Alternative Star Wars Saga has also led some people to believe that he is a published Star Wars writer.[9] However, Rhea is not and, due to his career goals and LucasBooks policies, likely will not be an official Star Wars writer.[10]
SuperShadow investigations
Rhea was part of an investigative effort to reveal the truth about Mickey Suttle, better known as SuperShadow, and noted for making up stories about future Star Wars works and claiming association with Lucasfilm. Rhea joined another individual named Steven Alldis in working to create a comprehensive explanation of Suttle's falsehood. Together, Alldis and Rhea compiled an extensive list that showed Suttle's contradictions, point by point. His stated goal in doing so is to rid the Internet of SuperShadow and help expose the truth behind Suttle's activities. Rhea has also stated that he is open to questions about the matter and has not and will not lie about his identity.[11]
TheStarWarsRP.com
"You should try being me. It's really hard when you are perfect."
―Brandon Rhea on the SWRP.com
Brandon Rhea is the head administrator on the StarWarsRP.com and has been a member since 2005. He has been a large part of that community, with over 5,000 posts there, and continues to be active there. He has also posted his Alternative Star Wars Saga there. Rhea is prolific in welcoming and helping new users to the website.[12] Among other things, he was also responsible for creating the Great Rim Lines War and United Pirate Crusades.[13] He has stated that several role-plays on that website were the basis for his Shadows of the Jedi Trilogy[3] and many of the major characters in that trilogy, such as Kit Corwin Rendar were conceived out of these role-plays.[13]
TheForce.Net
"The MS (Moderators, or "Mod Squad") is a horrible place. They've already started brainwashing me into their little cabal. They had some strange and feminine looking man come in and try to convince me about their devious plots."
―Brandon Rhea on TheForce.Net
Rhea joined TheForce.Net in June 2004 as his first foray into the online Star Wars community. He was chosen as a VIP there twice. On the first occasion, the award was given for creating a comprehensive "how to make a fansite" article. His second VIP status award was granted for coming with up the idea for and hosting the Classic Trilogy Scene Write/Rewrite Contest, which allowed users to rewrite and create scenes for parts of the original Star Wars trilogy. Rhea is also a moderator of the Fan Sites section of the Jedi Council Forums of TheForce.Net.[3] In addition, he has posted his Alternative Star Wars Saga stories on TheForce.Net, where they have garnered numerous positive reviews.[1]
Wookieepedia
"Brandon Rhea (born March 7, 1989), also known as Jedimasterbac or simply Bac, is an award winning Star Wars fan fiction author best known for his Alternative Star Wars Saga [sic] series of novels, including the popular Star Wars: Episode I - The Chosen One.'"
―Brandon Rhea on his Wookieepedia userpage
Brandon Rhea joined Wookieepedia in August of 2006, contributing sporadically, as he has less than fifty contributions two years after becoming a member.[14]. He does not list his Wookieepedia affiliation on most of his other user pages.[1][5][3]
The Star Wars Fanon Wiki
"You can go straight to hell if you're going to accuse me of a lack of commitment to this website, considering everything I've done around here."
―Brandon Rhea on the Star Wars Fanon Wiki
Brandon Rhea joined the Star Wars Fanon Wiki in August 2006.[15] He has posted his Alternative Star Wars Saga there and has garnered numerous awards and accolades on the wiki. Rhea was the User of the Week and was chosen as the User of the Month for February 2008. Rhea's work earned him nine awards in the Third Star Wars Fanon Wiki Awards including being named the Best Writer of 2007. He has the most Good and Featured Articles of any one user on the Star Wars Fanon Wiki.[7][3]
Rhea also holds several positions on the Star Wars Fanon Wiki. He is a founding member of the High Priests, a Good Article review board established in May 2007.[16] Rhea also created the concept for the High Priests, as the name comes from the rank of "Bendu High Priest" from his Alternative Star Wars Saga.[3] In July 2007, he was chosen as a Decreton Lord, an organization similar to the High Priests in function but with purview over the wiki's Featured Articles. In September 2007, Rhea was elected as an administrator for the site. Later that year, he and Victor Dorantes were chosen as the hosts for the Third Wiki Awards by the community. 2008 saw Rhea, again alongside Dorantes, chosen to head up the Completely Unofficial Star Wars Fanon Newsletter in June. In addition, he also recently won election as a site bureaucrat in July of 2008.[16]
Sequel-Trilogy.Net
Brandon Rhea is the head administrator on Sequel-Trilogy.Net, a website he runs primarily as a host and forum for his Alternative Star Wars Saga. The site has fourteen registered users thus far, though numerous links on it are broken and it does not have any recent news postings. The website includes databanks, Star Wars news, polls, and forums for discussion of, among other topics, the Alternative Star Wars Saga.[17]
Darthipedia
"He [Brandon Rhea] even has his own sites. LOL, what a fag. He is also a lying sack of Republican shit. For that reason, he feels that he'd be a great President of the United States."
―Brandon Rhea about himself on Darthipedia, the Star Wars Humour Wiki
Goodwood: "so i herd u liek poop"
Brandon: "I like poop."
— Goodwood and Brandon, on IRC
Brandon Rhea joined Darthipedia, the Star Wars Humour Wiki in late March 2008. On Darthipedia, Rhea has parodied his own work, making articles such as "Jesus Patrick Bach" in a mockery of "Ussej Padric Bac", a central character in his Alternative Star Wars Saga. Other self-parodies include three other iterations of Jesus Patrick Bach.[18] In his parodies, Rhea makes self-aware comments on the proclivities of his characters; in one instance, he states "He then became the Shaman of the Free Willys and lived in another dimension until God said he could go to Heaven and bang his hot blonde apprentice some more." about Jesus Patrick Bach,[19] a reference to the later life of Ussej Padric Bac as described in his Ussej Padric Bac article on the Star Wars Fanon Wiki.[20] Some of his other works have also been parodied by others on Darthipedia, an occurrence which Rhea has not always appreciated.[21] Rhea does not list his association with Darthipedia on most of his other userpages.[1][3][4]
Madclaw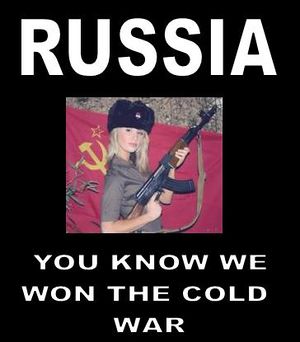 "I really don't appreciate being used as a punching bag by IRC lurkers and some Darthipedia members. I don't like having Madclaw come on to IRC under the name MonicaLuwampa and telling me we should go have sex in the Lincoln Bedroom just because I used to have the term "President" all over my user page and signature."
―Brandon Rhea
Brandon Rhea has often been mocked in Star Wars Fanon's IRC channel by several users including: Madclaw, people who call themselves Troyb and many many more. This is not done to bring him down however. Since Rhea has stated his ambition to sit in the oval office one day, these IRC pranks are staged by his supporters to give Rhea the backbone to deal with the stress that comes with his furure leadership. Madclaw has stated his only regret is that he does not hold the American citizenship to vote for Rhea when his glorious term of the highest office begins.
As of August 20, 2008, the criticism of the Darthipedia mockery is no longer on Rhea's talk page.
Russians
"Not only are you a vandal, but you're a Russian vandal so this ban feels twice as good."
―Brandon Rhea
Brandon Rhea is an immensely responsible man, who strongly believes in the importance of democracy and fairness between all users. As such, all those who threaten this utopia on Star Wars Fanon, such as Nazis and Communists, are liable to be punished. Of course, this is entirely justified. Mr. Rhea's diligence and hard work has seen such men, especially the Communists (who obviously target America), repulsed on such occasions as this and this. On behalf of the Union of Soviet Socialist Republics and Palputin, Thomas "Ima Evl Russn Bstard" Rattim has stated that this is only to ensure that Mr. Rhea has the backbone and inherent hate of Communists to be able to press that big red button and nuke them all when the time is needed.
Notes and references