Bothan Herald:Star Wars wiki celebrates fifth anniversary
From Darthipedia, the Star Wars Humor Wiki, currently editing over 582,970,995 articles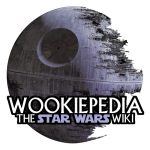 MARCH 4, 2010
COLONIAL HEIGHTS, VA - Today marks the anniversary of a cultural phenomenon as website Wookieepedia, the Star Wars wiki celebrates five very, very long years of mass-debating over the (sadly long gone) Jean-Luc Picard article, supplying redundant information from some old role-playing game, mass-debating over the Dantius Palpatine article, plotting ways to discredit Halopedia, admiring Abel G. Peña, furiously BEEBLing until a thick, white bodily substance is released, and giving shelter to the Scottish. Oh, and Karen Traviss plopped herself in there somewhere.
Created on March 4, 2005, Wookieepedia has quickly won over the hearts of many and like the true stag it is, broke just as many hearts at a steady rate. We asked Wookieepedia administrator for now and founder Chad "WhiteBoy" Barbry to describe the website in one sentence. However, Mr. Barbry declined to answer, preferring to instead fight the Horde members of Azeroth in hopes of one day obtaining that coveted 4 stam, 4 strength leather belt. Can you blame him?
This attempt was met with many other failures, as seemingly all of the Wookieepedia administrators refused to answer any of our questions. Left with no other choice, we conducted a short interview with self-appointed co-founder, General Steven "Riffsyphon1024" Greenwood, which consisted of mostly ramblings on how the site would have been named "Wicketpedia" had he been in charge.
So instead, here's our interview with the ever-sexy Bob Vitas on how Rogaine changed his life.
| | | |
| --- | --- | --- |
| | I have a pretty youthful attitude towards life, but when I first started thinning, I thought, 'I'm getting old'... I was excited about the possibility of regrowing my hair. There is an attachment to hair, and it's a masculine trait to have your hair. I'm confident it's helped maintain my hair over the past 17 years. There's none in the shower, or when I'm running my hand through my hair... I felt the hair getting thicker from the peachy hair that appeared at first. This is good! The growth is fabulous! | |
So on that note Wookieepedia, allow me to tip my hat in your general direction. After all, had it not been for you, I would have never been regex-blocked twice, allowing me to finally get some fresh air. On such a glorious day, no one shall refer to your administrators as buttfuckers. No, this day, you are princes among peasants.
In other news, a massive bill for hookers, vodka and a Vegas hotel room where a celebration took place last night at the stroke of midnight has mysteriously been sent to Darthipedia by someone named Reverend Keim. If you have any information at all regarding this matter, please forward it to one of our administrators. Thank you.
---
The Bothan Herald reporter supergeeky1.
"This is The Bothan Herald."
―James Earl Jones
Sources