Bothan Herald:Singing Darthipedia administrator missing; feared dead
From Darthipedia, the Star Wars Humor Wiki, currently editing over 582,970,995 articles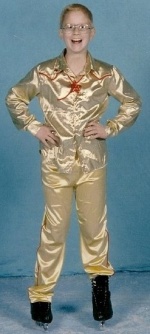 UPDATED
OCTOBER 4, 2010

LANCASTER COUNTY, PA - Police are investigating the disappearance of 12 year-old Alonzo Theodore Jackson, who was last seen on April 11th at a Black Panther rally in Washington, D.C.. Alonzo, a destitute young African American child, was a life-long Star Wars fan, active in many fan communities including Darthipedia, the Star Wars humor wiki, where he had established himself as a site administrator. Known by many as "StarNinja99, the Singing Sensation", Alonzo wooed the hearts of many young ladies, singing classics such as Ozzy Osbourne's "Crazy Train".
Witnesses say Alonzo entered a local liquor store to buy a carton of cigarettes when he was escorted out of the store and forced into a van by three men in white robes, although the validity of the witness's testimonies are disputed by Alonzo's on-again, off-again girlfriend and fellow Darthipedian, Whitney Duncan Penworth, age 10. In an over-the-phone interview, Penworth had this to say of Alonzo's disappearance:
| | | |
| --- | --- | --- |
| | I really don't care. I only went to the stupid rally to break up with him. Truth is, I've been secretly seeing my older sister's boyfriend for the past few months anyway. I hope they find Alphonso [sic] and his beloved sequins in an alley somewhere. | |
Officials with the Lancaster Country Police Department have indicated that numerous text messages have been placed from Alonzo's pager since the time of his disappearance, all of which can be traced to the country of Iraq. The texts, all under 200 characters, consist of lyrics to the song "God's Gonna Cut You Down" by country singer Johnny Cash and offer no insight to Alonzo's well-being.
If you have any information about Alonzo's disappearance, please call The Bothan Herald's missing persons hotline at 1-985-655-2500 where you'll be greeted by operators who will never let you down.
UPDATE
We found StarNinja99! Thanks to YouTube, our hotline has been bombared by users of the video site with information on Alonzo Jackon's location. Police have determined that the shocking video below depicts Alonzo being held in captivity in Iraq. Discretion is advised when viewing the video, as the contents are extremely graphic and disturbing.
No word on when a rescue mission to save young Alonzo from his captors will commence, if at all.
---
The Bothan Herald reporter supergeeky1.
"This is The Bothan Herald."
―James Earl Jones