Bothan Herald:Adalric Cessius Brandl reveals child with secretary
From Darthipedia, the Star Wars Humor Wiki, currently editing over 582,970,995 articles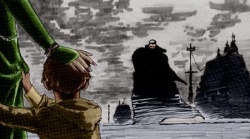 Imperial Palace, Coruscant: Former Imperial Inquisitor Adalric Cessius Brandl fathered a child more than 10 years ago outside of his marriage to Maria Brandl, a source close to the situation reported.
As it turns out, an Imperial Secretary to the Emperor who will remain unnamed had an affair with Brandl when he first entered their service.
The child was born in 1 BBY, making the child nearly Eleven years old. Brandl also has a child with Maria, named Jaalib Brandl.
When confronted on the indecent, Brandl would droll his best half ass answer.
| | | |
| --- | --- | --- |
| | After leaving the Inquisitor's office I told my wife about this event, which occurred over a decade ago. I understand and deserve the feelings of anger and disappointment among my friends and family. There are no excuses and I take full responsibility for the hurt I have caused. I have apologized to Maria, my children and my family. I am truly sorry. | |
The revelation came about a week after Brandl and his wife of 25 years announced that they were "getting the fuck out of dodge", a just two weeks after their anniversary.
Did he forget to get flowers?
What is clear is that these two have separated on mutual terms.
Once the hottest couple in Imperial space, Adalric Cessius was the highest paid entertainer the Emperor ever had, and Maria was the hottest news anchor on the holonet.
When the Emperor appointed Brandl Inquisitor, several complaints came up of Barndl sexually harassing women from various works of art he'd done. One report even states that he pulled up a female Duros shirt and gave her a purple nerple... with his mouth.
Brandl issued a general apology for "behaving badly sometimes" but said many of the allegations were not true "because sith happens."
Maria refused to comment, as did the secretary. We did, however, get comments from his close friend, the Emperor himself.
| | | |
| --- | --- | --- |
| | I just don't know, man. He may seem to have that tough guy bravado in the holos, but in real life he's just the nicest guy. I don't know why he'd do a love 'em and leave 'em kind of thing like this... its just downright... well... evil! | |
It has been reported that Throughout the years Brandl has indeed payed the mother of his love child throughout the years... though if it is because he wants the kid taken care of or if its a bribe to keep their mouths shut, it unknown at this time.
---
The Bothan Herald reporter StarNinja99.
"This is The Bothan Herald."
―James Earl Jones
Sources