BTL-B Y-wing
From Darthipedia, the Star Wars Humor Wiki, currently editing over 582,970,995 articles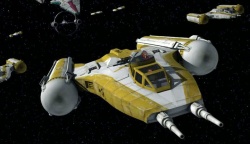 "It may not look like much, sir, but someday these babies will be the slowest, crappiest, most easily shot-down bombers in the galaxy."
―A proud clone pilot, about his new squadron of BTL-B Y-wings
The BTL-B Y-wing starfighter was a starfighter-bomber used by the Galactic Republic during the Clone Wars and was the precursor to the Y-wing as used by the Rebel Alliance.
Clone trooper pilots loved the Y-wings, because they had the strongest shields of any starfighter around at the time... which was required because they were Y-wings and couldn't steer or evade enemy fire. But back in the Clone Wars, most of the starfighters couldn't steer worth a crap unless there was a Jedi flying them anyway, so the shields were a definite plus. Anakin Skywalker once flew in a BTL-B... he also had Ahsoka Tano as his gunner and R2-D2 as his navigation/maintenance droid, and he still could barely maneuver.
The BTL-B configuration was sleek and stylish compared to the later generations of Y-wings, but the extra body panels served no useful purpose except presenting a larger target. Rebel pilots ripped off all the excess crap before flying them.