All Terrain Personal Transport
From Darthipedia, the Star Wars Humor Wiki, currently editing over 582,970,995 articles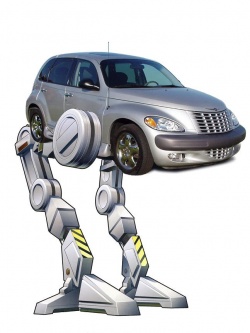 "It's not ugly. It's retro."
―Ads for the AT-PT
The All Terrain Personal Transport, or AT-PT, was a lightly armored compact walker used by the Galactic Empire for use against infantry. It was designed for a single occupant, unlike the All Terrain Scout Transport (AT-ST), which required a crew of two. It was still classified as a heavy walker under CAFE fuel economy standards, thanks to some heavy lobbying in congress. The AT-PT was ranked top of its class by J.D. Power and Associates.
The AT-PT was designed by Rothana Heavy Engineering during a poor economic period before the Clone Wars. It was one of the earliest of the AT-series transports, based on the All Terrain Old Prototype (AT-OP). The design was later modified to become the basis of the more commonly known AT-TE, AT-AT, AT-ST, AT-BAT, AT-a-TAT-TAT, etc.
AT-PT pilots spoke in outrageous French accents for some reason.